Extra Curricular
Suryadatta College of Hotel Management, Travel & Tourism (SCHMTT) has organized a session on 20th December 2019 on the topic of Opportunities on Cruiseliners, Mr Olaf Lobo (Head Trainer for AIDA Cruise & Career Counsellor), spoke to the students about the pros and cons on joining and opting for Cruiseliners as a Career option.
Students of Suryadatta Institute of Vocational and Advance Studies ( SIVAS ) School Share Joy and happiness on their visit to Janaseva Foundation's Senior Citizen's Home At Village Ambee, Panshet, Pune.
SFILATA Competition
A National Level Design and Technical Symposium was held on 15th March 2019 at Jawaharlal Darda Institute of Engineering and Technology, Yavatmal. Participants were textiles and fashion design students present from cities like Mumbai, Pune, Coimbatore, Vidharbha, Jalgaon, Nasik, Nagpur, etc. Four students Yashi Timbadia, Sneha Patil, Tarjani Patel and Mansi Padwal from Sift, pune also participated in various creative competitions. Yashi and Sneha won 1st prize in the Garment designing competition and Tarjani and Mansi won the consolation prize. Yashi also secured the 1st prize in paper presentation competition which was based on Smart Textiles. They also received the participation certificates for Fashion illustration competition. Yashi and Sneha's theme was inspired from the great Leonardo Da Vinci and was named 'Mystery comes Alive' and Tarjani and Mansi's theme was inspired from Rogan Art and was named 'Unveiling Artistry' for Garment Designing competition.
Lokmat Maha Marathon

To Attain a Healthy mind in a Healthy Body, Suryadatta Group of Institutes (SGI) Organizes, A unique Silent Hillathon under 'Fit India Movement'.
In continuation of this healthy trend, Suryadatta Education Foundation's, Suryadatta Group of Institutes, organised "Suryadatta-Slient Hillathon-2019" on 16th November 2019 at Parvati, Pune. Our enthusiastic Chairman Sir, Dr. Prof. Sanjay B. Chordiya Sir, who initiated this fitness program under Prime Minister Narendra ModiJi FITINDIA movement, aimed at creating awareness for fitness, health & the need for change in lifestyle which includes reducing the use of mobile phones and maintaining silence to attain the peace of mind. Students of Suryadatta Institute of Fashion Technology SIFT , Suryadatta Institute of Vocational and Advance Studies & Pune Institute of Applied Technology participated in the Suryadatta Silent Hillathon . The Hillathon comprised of Climbing the Parvati Hill, reaching the Top and descending back to the final Point. Around 100 Students and 20 staff members participated and completed the Hillathon. Cash prizes were announced for the winners.
Lesson Learnt:
Feeling better mentally – regular exercise can lift your mood and help you feel better Fewer health problems – living a healthier lifestyle means a lower risk of developing many illnesses Taking control of your life – getting healthy helps you feel in control of your life.
SIVAS Cricket team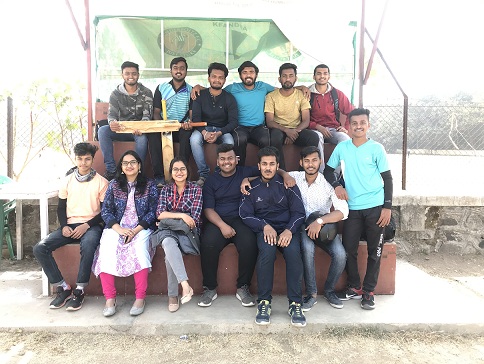 Students of Suryadatta pledge to take care of their parents during their entire life after their visit to Old-age Home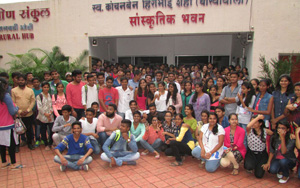 In our Indian Culture, it is our tradition to treat the parents like Gods. In real life do we really follow such rich heritage? To have the insight and to realize the bitter facts of life and thereby to make the students understand their duties towards their parents, Suryadatta Group Of Institutes organized a visit of their students of Fashion Design & Interior Design discipline to Janaseva Foundation's Old Age Home at Ambi near Panchshet Dam, Pune.
Suryadatta Education Foundation organized a visit to 'Janaseva Foundation's – an Old-age Home' for students of Interior Design & Fashion Design Department.
This Visit was organized keeping in mind to make the students aware & realize the bitter fact of life & to know how important it is to be internally strong in order to keep once surrounding strong & supportive. Also to know the importance of our parents in our life. It was also needed to make students understand the space design from the oldage people's point of view & their requirements related to interior space & their daily wear outfits suiting to their age & comfort level. 'Janaseva Foundation's Oldage Home' is located at Ambi near Panchshet Dam, Pune. It is located in a refreshing nature's womb. It is been established at the year 1985 by Dr. Vinod Shah, M.D., renowned Gastroenterologist, associated with many prominent hospitals in the city is the founder-chairman of Janaseva Foundation. A highly accomplished physician and teacher of medicine, by overpowering inner urge to be of service to the India's poor, sick and the powerless people who needed it most got the better of him and he founded the Janaseva Foundation in 1988. Almost 180-200 old age people are residing there. All the necessary care has been taken by the Janaseva committee members from their daily leaving, food, cloths & shelter. A daily time table has been followed for these people, which includes their daily exercise, resting, meals, different entertaining activities, maintaining their hobbies etc.
The Founder Dr. Vinod Shah .has taken a great efforts & initiative in Contributing to this great Social cause. Students were emotionally touched by meeting these innocent old people & learned a lot from them. More over these old people were extremely happy & pleased to meet & spend time with these young & enthusiastic children. At the departure time our Principle Mr. Ajit Shinde addressed everyone & spreaded the sweetness he felt by singing a song. Everyone took an oath of being supportive & helpful to their parents in their further life ahead. All & all it was a memorable & learning visit for everyone.