Corporate Social Responsibility
Lecture on Soft Skills By Ms. Monoca Bansal
Suryadatta Group of Institutes has announced scholarship to 100 employees in this upcoming educational year to get higher education. As Industry Institute Interface initiativethese employee students will get scholarship.The selection process of this scholarship is based on first come first service and recommendation from HR of the company, said Founder President and Chairman Dr. Sanjay Chordiya. The Suryadatta Group of Institutes run by Suryadatta Education Foundation was established in the year 1999 with the objective of developing self-motivated leaders, to be successful in the challenging and vibrant global economy. As a part of the 'Industry Institute Interface' (CSR) Initiative, Suryadatta Group of Institutes had provide scholarships worth Rs.20 lakh to 100 employees of top ranking companies from last 6 years. Suryadatta Group of Institutes is known for its high quality research, expert management and focus on cultivating leadership. It also associates with its innovative initiatives and community welfare awareness programs.Dr. Chordiya said that the institute had sent an official letter to various companies asking nominate deserving and loyal employees from their organization. The price of the scholarship is 50% of the Course fees to all nominated employees and 100% to economically weak sector. Suryadatta has sponsored these employees' education in various fields i.e. Management, IT, Foreign trade, etc. People from the age group 22 – 50 years have been pursuing their education at Suryadatta's institutes which has Savitribai Phule Pune University affiliated courses such as >MMS,MPM,MBS,PGDBM (2 Years), PGDFT ( 1 Year), PGDMM ( 1 Year), PGDIB (1 Year), PGDMLM (1 Year) and PGDFS (1 Year).Courses are affiliated to Savitribai Phule Pune University and it commences from July 2016. To admission process, recommendation letter from HR department and for more detail information please visit to the website i.e. www.suryadatta.org
Normally, employees are working in shift and they can attend regular classes. Production Managers, Stores Managers, Line Leaders, Sr. Engineers, Hardware and Software Engineers, Team Leaders, Assistant Branch Managers, Directors, Purchase Officers, Store Assistants and Superintendents have completed courses at our institutes. Some important reasons to join SIMIR- Suryadatta is providing facilities i.e. Centrally located in Pune City, knowledge Capital of India, Separate Boys and Girls hostel Facility, Convenient Batch Timings, Modern Infrastructure Facilities, Internet connected Computer Labs, Fully equipped Library and Reading Hall, Access to online database and journals, Rigorous Academics through Regular Classroom Teaching, Induction & orientation program, Seminars, Guest Lectures & Workshops, Training by proven Academicians & Industry Professionals, Case Study Based Learning, Guidance for field work and projects, Regular monitoring of performance of students, Personal Counseling & Mentoring, Opportunity to Learn Foreign Languages, Scholarship for Meritorious Students, Placement Assistance to Eligible Students, Yoga & Meditation Sessions, Participation in CSR initiatives, Knowledge Management Workshops, Participation in inter collegiate competitions for co-curricular and extracurricular activities, sports, quiz and Value Based Education.
Companies like Tata Yazaki (27), Novartis (5), IDBI Bank (1), 2F Steering(I) Ltd (6), Hindustan Coca Cola (5), Sandvik Co. (4), Cipla (2), Kirloskar Chillers (2), Maersk (I) Pvt. Ltd., Chougule (I) Pvt. Ltd., Sahaj Infotech,Bharat Forge ltd, etc. have nominated their workforce for qualification enhancement. This program has received an overwhelming response from the employees of the respective companies. They are extremely grateful to the institute for having such a unique program designed especially for company employees.
The Vision of Suryadatta is to be a world class Centre of Excellence in Learning and Innovation and this is a step ahead in this direction, said Dr. Chordiya.
Suryadatta sculpts better Human Beings through humanitarian deeds;' through Edu-Socio-Connect program says- Mr. Dhiraj Ghate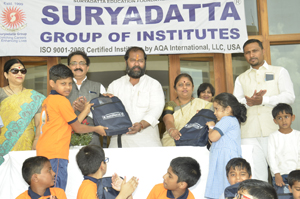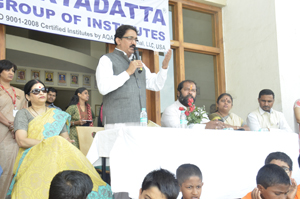 Through his nobles actions Dr. Sanjay B. Chordiya, Founder, Presidents & Chairman of Suryadatta Group of Institutes, who is believer of "Education to All", always shows the way to follow his footsteps and inspires to outreach the needy deserving people of the society.
This year Dr. Sanjay B. Chordiya and his daughter Dr. Kimya Chordiya's Birthday was celebrated in a unique manner on the very opening day of the School and Junior College; 16th June 2016, by distributing school bags containing 10 Note Books & a compass box to 200 needy students from draught affected areas of Maharashtra. The generosity was executed through the tudents of Suryadatta National School, Bavdhan.(CBSE Affiliated). The very purpose of doing so is while extending the help, the young minds also should learn a lesson & emulate it when they are capable to do so. This indeed is a 'Sanskar'; the Enculturation, which will be imbibed by the young generation of India.
Apparently the gesture may be monetarily evaluated as a small step but philosophically it is a step of 'Vamna', covering the entire universe. It is the squirrel's help to Lord Rama in building the bridge across the ocean.
Read more: Suryadatta sculpts better Human Beings through humanitarian deeds;' through Edu-Socio-Connect...
Suryadatta's 250 Students happily enjoyed rice plantation from consecutive 5 years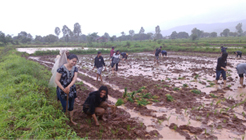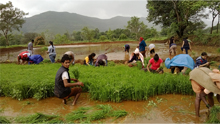 Under Suryadatta's Social Initiative, Suryadatta's Design students visited small villages in 'Velle Taluka' for rice plantation As a part of Suryadatta Edu Socio Initiative, this year alos Suryadatta group of Institutes students executed a very unique program of "Rice Crop plantation, in association with leading Organization; " Vanrai". Vanrai is implementing various social initiatives especially for farmers and social development since last 25 years. And their contribution is very valuable. Vanrai is implementing various projects for supporting farmers and soling their problems. Suryadatta, leading institution always ahead in the area of Corporate Social Responsibility through Edu Socio connect, joined hands for offering support to the farmers based in Vinzar, Dist : Velhe, a place about 60 kms away from Pune. This initiative was planned with an objective to inculcate the social responsibility amongst students. Recently under Suryadatta's Social initiative, Suryadatta's Design 250 students along with faculties and Principal Prof. Ajit Shinde participated in the act. The whole event was organized and guided by Vairai's Adv. Nandu Phadake. During the journey, Organizers explained the objective of these imitative and other details. A group of about 5-7 students was attached with one farmer and these students were in the control of that farmer for the day. And worked there in consultation with farmers for trans plantation of RICE throughout the day for about 30-40 farms. Students enjoyed and learned a lot by the activity, got closer with the life style of the farmers and understood the value of single grain of food. They had lunch with farmers. While sharing the experiences the students had also realized how the Indian farms are incredible part of our country's economy. The environment is very supportive in this area for RICE Crop, however, due to shortage of labor, the farmers were not able to do the plantation across the farms. Because of students visit to that place, the farmers could complete about 80 % of their work, and the farmers, villagers and organizers were quite happy with this development. And they thanked students and faculty members for their contribution. These metro people came back to their routine life with refreshing minds, promising to visit the place again next year.